AUCTION TERMS
Appellation
The appellation of a wine is the specific geographic region where the grapes that went into the wine were grown. In France alone there are more than 400 officially designated appellations. In the United States there are 242 appellations, and they are referred to as AVAs, or American Viticultural Areas. California has 139 AVAS, the largest number of any state. Many states, from Arizona and Arkansas to Ohio and Texas, have AVAs. Most wine producing nations have some system of designating appellations.
Lot
A lot is the organizing unit of all auctions. It may include a single bottle, a bottle and case, or any combination of bottles and bottle sizes of a particular wine, or may be made up of a combination of different wines.
Contested
The lot currently has one or more bids on it.
Uncontested
The lot currently has no bids on it.
Buyer's Premium
Buyers are charged a 17% premium in addition to the final price of the wine. The premium covers services provided by WineBid in organizing the auctions.
Bid Increments
| Bid | Bid Increment |
| --- | --- |
| $1 - $99 | $1 |
| $100 - $299 | $10 |
| $300 - $499 | $20 |
| $500 - $999 | $50 |
| $1,000 - $2,999 | $100 |
| $3,000 - $4,999 | $200 |
| $5,000 and up | $500 |
Horizontal Collection
A horizontal collection is a group of three or more different bottles of wine from the same vintage.
Wood/Cardboard Case
A wood or cardboard case is the container in which the winery packed the wines. This will be included in the notes of a lot if it is available. Our policy is to send any packaging noted in the lot description, unless you tell us not to. All packaging is shipped separately from the wines and the shipping of this packaging has an additional charge to the buyer.
Vertical Collections
A vertical collection consists of several consecutive vintages of the same wine. For example, a vertical of Opus One might include a bottle of each vintage from 1990 through 1995.
BOTTLE TERMS
WineBid inspectors are trained to document every possible bottle detail. Please be aware that stock photos may be used for bottles that have lightly depressed corks, lightly elevated corks, light capsule issues, and light label issues.
Labels
Inspectors may note either a light or heavy label condition issue. This may refer to, but is not limited to, labels that are bubbled, faded, folded, loose, nicked, scuffed, soiled, stained, tissue stained, torn, worn, wrinkled, and when a label has writing on it that was not originally placed there by the producer.
Please note: we do not include back labels, vintage labels or importer's labels in our description, though they can be viewed on the bottle's lot description page.
Capsules
Inspectors may note either a light or heavy capsule condition issue. This may refer to, but is not limited to, capsules that are chipped, corroded, cracked, missing, nicked, oxidized, scuffed, soiled, stained, torn, worn, and wrinkled.
Corks
Inspectors may note either a light or heavy cork condition issue. This may refer to, but is not limited to, corks that are depressed or elevated.
Provenance
The ownership history of a particular wine is called the provenance of the wine. The provenance includes information about how the wine was acquired by the current owner and under what circumstances. Provenance is particularly important for establishing the estimated value of very old, rare or valuable wines. If there are questions about the provenance of wines offered for consignment at WineBid, we either reject the wines or state clearly on the lot descriptions that the provenance is unknown. Here are some of the terms used to describe how the wine was stored:
TEMPERATURE CONTROLLED UNIT
This description is often accompanied by the name of the actual storage unit. Examples of units that are purchased for individual use are Breezaire, Whispercool and Vinotemp. These storage units have become popular in recent decades. They offer collectors compact storage units designed to keep wines within ideal temperature and humidity ranges.
PASSIVE CELLAR
Passive cellars are rooms in a residence with no means of maintaining a permanent temperature. When encountering a consignor with such a cellar, we usually inspect it to determine the quality of the storage area.
UNDERGROUND/SUBTERRANEAN CELLAR
An underground cellar can also be passive or temperature controlled. A passive underground storage area is always preferable to an above ground passive residential cellar. Underground storage is almost always a cooler environment, less susceptible to damaging light, and generally very still.
PROFESSIONAL STORAGE FACILITY
Professional storage facilities are lockers in temperature-controlled buildings that can be rented by wine collectors.
DIRECT FROM WINERY
These wines have been shipped directly from the winery to our Napa Valley warehouse.
Seepage
The slow escape of wine due to natural cork lifecycle or storage conditions.
Ullage
Ullage or fill level is the space at the top of the wine bottle not occupied by wine. A low ullage can indicate seepage and oxidation of the wine, and affect its value considerably.
Ullage Terms
FOR BORDEAUX, CABERNET SAUVIGNON, AND WINES IN SIMILAR BOTTLES
Base of neck or higher
If no fill level is indicated, that means that it is at the base of the neck of the bottle or higher. We consider anything that is in the neck to be a perfect fill level for any bottle of any age.
Very top shoulder
Indicates either a slightly low fill at the time of bottling and/or a slight natural reduction due to an easing of cork and evaporation through the cork and the capsule. This is an excellent fill level for any wine more than 20 years old.
Top shoulder
On the high slope of the shoulder, this is an acceptable and normal fill level for wines 15 years of age and older. It is a very good fill level for wines 35 years of age and older.
Mid shoulder
Suggests that ullage has dropped during the life of the wine due to easing of the cork and/or inconsistent storage conditions. This may be normal for a wine that is 40 years old or older.
Low shoulder
This occurs in older wines.
FOR BURGUNDY, PINOT NOIR AND WINES IN SIMILAR BOTTLES
Burgundy ullage has historically been measured in centimeters because Burgundy bottles are shaped differently than Bordeaux and Cabernet Sauvignon bottles. Fill levels for Burgundy are measured by looking at the space between cork and wine.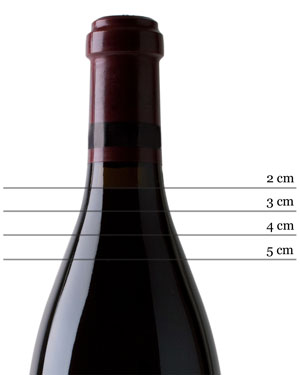 Two centimeters or less
Considered an excellent fill for any age and does not need to be mentioned.
Three centimeters
A perfectly normal fill for wines 12 years and older. It is an excellent fill level for wines 25 years or older.
Four centimeters
Considered a normal fill for wines more than 20 years old and excellent for wines more than 35 years old.
Five centimeters
Not uncommon in wines 30 years old or older.
BOTTLE SIZES
| SIZE | NAME | DESCRIPTION |
| --- | --- | --- |
| 375ml | Half bottle | equal to half the size of a regular bottle |
| 750ml | Bottle | a regular bottle |
| 1.5ltr | Magnum | equal to two bottles |
| 3ltr | Double Magnum | equal to four bottles |
| 3ltr | Jeroboam | equal to four bottles (in Burgundy and Champagne) |
| 4.5ltr | Jeroboam | equal to six bottles (in Bordeaux) |
| 5ltr | | equal to 6.67 bottles (in California) |
| 6ltr | Imperial | equal to eight bottles (in Bordeaux and California) |
| 6ltr | Methuselah | equal to eight bottles (in Burgundy and Champagne) |
| 9ltr | Salmanazar | equal to twelve bottles |
| 12ltr | Balthazar | equal to sixteen bottles |
| 15ltr | Nebuchadnezzar | equal to twenty bottles |
| 18ltr | Melchior | equal to twenty-four bottles |
| 27ltr | Primat | equal to thirty-six bottles (in Champagne) |